Singer 4452 Sewing Machine Review: Pros, Cons & Bonus Accessories
My daughter fell in love with the idea of sewing mermaid flip sequin fabric into the holes of her distressed jeans. Yes, she is only 6 years old but the girl has style.
To pull this off using a machine, I needed to sew through sequins, a soft back layer to cover the scratchy sequin fabric, and of course, the denim. Five stitches in and the material pulled my needle right out of my machine. I realized I might need a heavy duty option if I wanted to machine sew my daughter's couture vision into reality.
I've heard great things about the Singer 4452 so I called a friend to try hers and of course read all the reviews I could get my hands on. (Spoiler alert: I ended up hand sewing the sequin patches BUT I did love the Singer 4452).
Here is the scoop.
Who Needs a Heavy Duty Sewing Machine?
Sequins aside, if you need a machine that will sew through leather, canvas, denim, vinyl, and upholstery fabrics, check out the Singer 4452 Heavy Duty Sewing Machine.
The Singer 4452 fits in the heavy duty category thanks to its heavy duty metal skeleton and 50% stronger motor, as compared to standard domestic sewing machines. It sews faster, comes with a handy set of bonus accessories and includes features that makes it simple and easy to sew through thick fabrics or multiple layers.
Keep in mind that although heavy duty sewing machines are usually purchased for their ability to sew through thick fabrics, they also work great with thinner, standard fabrics too. Since a heavy duty offers the versatility across heavy and lightweight materials, it can easily function as your sole sewing machine.
Brief Review of Features
One of the best things about the Singer 4452 sewing machine is its ease of use, which makes it a great choice for beginners. It's a mechanical machine which means it has more hand controlled features vs a computerized sewing machine (which relies on an internal computer and usually an LCD screen for a control panel).
Mechanical machines generally have less settings and stitch types than electric ones. Thus, they are less intimidating and easier to understand right out of the gate so you don't have to consult a manual for every little thing. Another perk, they are usually way less expensive too.
Experienced sewists love this machine too. The Singer 4452 comes with 6 presser feet, 32 built-in stitches, a powerful motor and fast speed which meets the needs of most domestic sewists across all experience levels. Sewing at 1,100 stitches per minute makes working with heavy home decor fabrics a breeze and saves you time. No problems sewing long lines of curtains or duvet covers regardless of the material! Quilters too like this machine with its even feed foot, quilt guide and an easy set up for free-motion sewing.
Here are the official specs. Note the dimension and weight and consider if this will work for you if you'll need to tote the machine back and forth to class or a studio space.
| Singer 4452 Features | Specifications |
| --- | --- |
| Dimensions | 15.5 x 6.25 x 12 in |
| Weight | 14.6 lbs |
| Presser Feet # | 6 |
| Stitch Count | 32 |
| Stitch Applications | 110 |
| Max Speed | 1100 stitches per minute |
| Max Stitch Length | 4mm |
| Max Stitch Width | 6mm |
What Stitches Come with the Singer 4452?
The Singer 4452 sewing machine features 32 built-in stitches. This includes 6 basic, 7 stretch, 18 decorative stitches and 1 fully automatic 1-step buttonhole stitch. Thirty two stitches easily cover the need for a variety of sewing projects and translate into 110 different stitch applications. You're covered for home decor to garment construction.
Check out the Singer 4452 Stitch Applications Guide for a comprehensive list of stitches built into the 4452 and all the ways you can use those stitches (i.e. stitch applications).
Since the 4452 is a mechanical machine, you choose stitches by turning the large dial on the front of it. Each stitch is printed right on the dial so it's easy to find the one you want. Each turn of the dial "clicks" on a trio of stitches. Choose the stitch in blue or red stitch by turning the dial above to S1 or S2 respectively. For the black stitches choose the coordinating black options. Singer's manual (and app) do a nice job of explaining each stitch in detail if you want to go deep.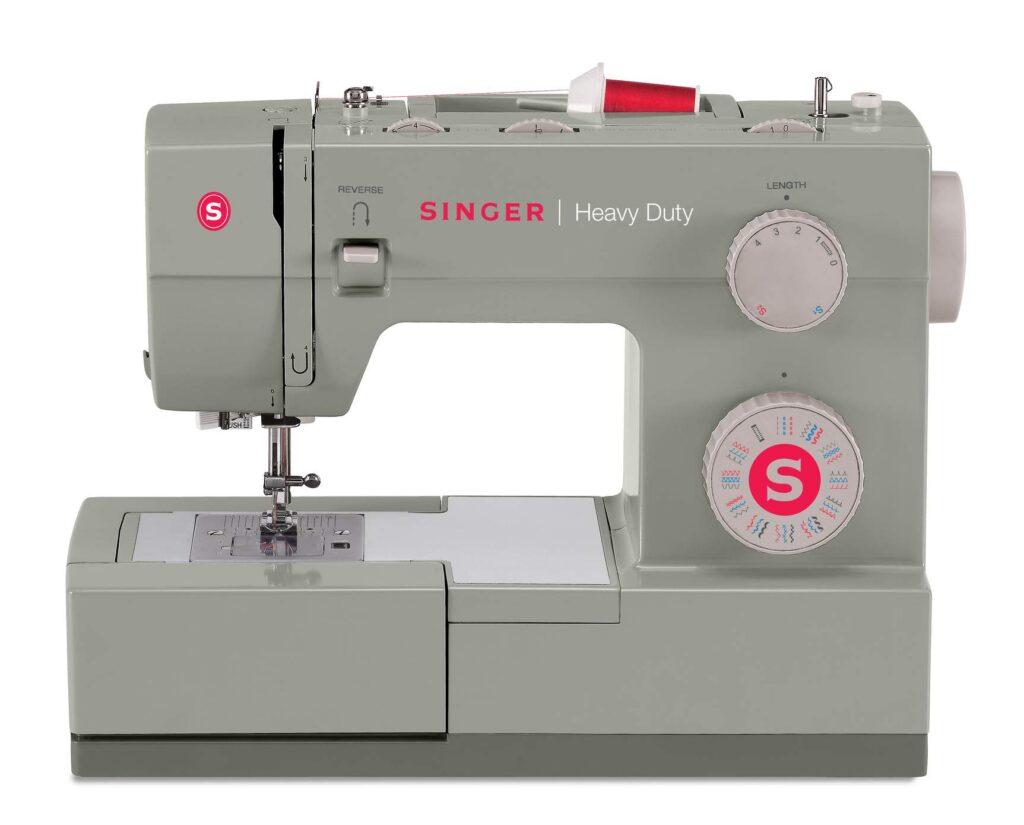 What Presser Feet Come with the Singer 4452?
The Singer 4452 sewing machine comes with 6 presser feet, more than the other Singer heavy duty machines thanks to two bonus accessories that come with the 4452.
All purpose foot
Button sewing foot
Buttonhole foot
Even feed walking foot (bonus accessory)
Nonstick foot (bonus accessory)
Zipper foot
Comparing the Singer Heavy Duty Sewing Machines: What is the Difference?
Comparing the heavy duty sewing machine in the Singer line up can be confusing to say the least. They look the same, have similar features and the names are all a bunch of numbers. Here are the important differences. For a full look at each machine check out our Singer Heavy Duty Comparison article.
Singer 4411 vs 4452
The 4411 is simplest (and usually most cost effective) heavy duty machine in the Singer line-up.
11 built-in stitches
69 stitch applications
4-step automatic buttonhole
No automatic needle threader
Singer 4423 vs 4452
The Singer 4423 is nearly identical to the 4452 but comes with less built-in stitches.
Note, you may come across the Singer Heavy Duty 44S which is the same machine as the 4423 but it was originally only sold at Walmart so it got it's own name to denote that.
23 stitches
97 stitch applications
1-step automatic buttonhole
Automatic needle threader
Singer 4432 vs 4452
The Singer 4432 and 4452 are exactly the same sewing machines. We did a full review on the Singer 4432 and found it has the same stitches, same features, same everything as the 4452. The only difference is the Singer 4452 comes with extra accessories. I'll cover the accessories below so you can determine if you need them. If you don't need them, consider purchasing the Singer 4432 machine and save some money.
32 stitches
110 stitch applications
1-step automatic buttonhole
Automatic needle threader
Bonus Extra Accessories that Come with Heavy Duty 4452
Singer advertises that the bonus bundle is equivalent to $100 in extra accessories. Definitely worth checking out and figuring out if you'll use them!
Even Feed / Walking Foot
This speciality foot has its own set of feed dogs that coordinate with the sewing machine's feeding system. This helps manage the movement of fabric, keeping the top and bottom layers of fabric from shifting when you sew multiple layers. This is especially helpful when quilting. It's also a sanity saver when matching up the lines in plaids, stripes or repetitive patterns, preventing them from shifting as you sew.
Non-stick Foot
This bonus foot glides along fabric without sticking to it like a standard presser foot might.
It's especially helpful to use with fabric like vinyl, plastic and leather, which is the a major reason people consider this machine in the first place.
Clearance Plate
This tool is used for two things. Firstly, to help with removing/replacing sewing needles. Secondly, it can help you stitch over thick seams like when hemming denim jeans. The clearance plate keeps the presser foot even and level when stitching over thick areas. This prevents the needle from hitting the opening in the presser foot. The instruction manual covers both in step-by-step detail.
5 Pack of Needles (size 16):
Heavyweight needles work well for thick fabrics.
The Rest of the Singer 4452 Accessories
The other accessories included with this machine include a general purpose foot, zipper Foot, buttonhole foot, button sewing foot, edge/quilting guide, pack of needles, bobbins, spool caps, auxiliary spool pin, spool pin felt, screwdriver, seam ripper/lint brush (my bff) and soft dust cover.
Helpful Features
Extra High Presser Foot Lifter & Adjustable Presser Foot Pressure
To make it easy for the Singer 4452 to sew fabrics of all weights, you can adjust the presser foot pressure. There's a small screw on the top of the machine that you turn with a coin (or the screw driver that comes with the machine) to adjust pressure. Turning clockwise increases presser foot pressure for sewing heavy fabrics. Turning counterclockwise decreases presser foot pressure, allowing you to sew thinner fabrics.
For very thick fabrics that don't fit easily under the presser foot, there is a lever on the back of the machine to lift the presser foot.
Free Arm
After removing the accessories compartment of the Singer 4452, you'll see the free arm. Most sewing machines have free arms so this is not a surprising feature but it is super helpful none-the-less. Using the free arm lets you wrap small, circular items like sleeves and pant legs around it, making it easier to sew around the bend without sewing two sides together. If you hem a lot of pants, or sew children's clothes, the free arm is your friend.
Automatic Needle Threader
This handy little feature can make threading the needle much easier on tired eyes or slippery fingers. Definitely a "nice to have" feature vs a "must have" since many people, like myself, prefer to simply thread the needle by hand even with the auto threader right there.
Top-drop Bobbin:
These bobbin types have you drop the bobbin into place and cover with a clear case that allows you to see how much thread is left on your bobbin. It only takes one experience of running out of thread mid-project to learn how frustrating it can be to sew a bunch of ghost stitches and then have to start over!
Singer Sewing Assistant App
Download this app on your phone for a quick and comprehensive reference guide, specific to your machine. Learn about the parts of the machine, how to set them up and how to get started quickly. It includes descriptions and videos so you have a visual reference for how to thread your machine and things like that.
Pros and Cons of the Singer 4452
Can sew through multiple layers of thick materials such as denim, leather and canvas
Versatility – easily manages light weight fabrics in addition to heavy duty
Fast max sewing speed
Easy set up and user-friendly sewing experience
Sturdy and stable (the machine doesn't shake the table while sewing)
When sewing at maximum speed, it can be hard on needles
There is a learning curve to manage the thread tension
Foot pedal should feel more substantial considering this is a heavy duty machine
Does not come with a protective case (but does include a soft dust cover)
Consumer Ratings and Owner Reviews of the Singer 4452
In addition to our own experience with the Singer 4452, we scoured the major outlets to see what other users had to say about this machine. Not too bad!
| Outlet | Rating | # of Reviews |
| --- | --- | --- |
| Amazon | 4.6 out of 5 | 4,499 |
| Walmart | 4.4 out of 5 | 707 |
| Sewing Machines Plus | 4.5 out of 5 | 57 |
| Michael's | 4.3 out of 5 | 41 |
Overall the Singer 4452 scores high with sewists across the board. However, there are always areas for improvement. Here are the ones we've seen most.
Several owners complain about the tension on the machine and how it takes some getting used to in order to get things right.
Another common owner complaint is the foot pedal. Some owners say it requires a heavy foot to get going and then goes too fast. A gentle touch is needed for slower, careful sewing, especially around curves, and it takes a while to get the hang of it. Others users say the pedal is too sensitive overall. Then there are some people that complain that it the pedal "feels" cheap which is surprising for a heavy duty machine.
Not surprisingly, many owners LOVE the machine's strength and ability to sew through multiple layers of fabric. One owner boasted of sewing through 11 layers of fabric without a skip.
This machine definitely stands out for high marks in user-friendliness and ease of understanding how to use the machine. Many beginners rave about how easy it was to get started with this machine – that the design itself makes it intuitive.
The Finishing Touch
I can't say I recommend it for sequined fabric although it did fine. No matter what machine you use, working with sequins can be quite a pain. <end rant>
This is a smart option for sewists that want to work with a wide variety of fabrics – the heavier vinyl, denim and leather in addition to the more standard cottons. It's also worth considering if you want a low vibration environment since the machine can handle more.
We recommend this machine – but before purchasing, double check the bonus accessories and make sure you need them. If no, consider the 4432, which is exactly the same machine, minus the bonus accessories, and save some cash.
If you like the accessories, and want an easy-to-use heavy duty sewing machine, the Singer 4452 is a great option.
Here's to heavy duty sewing and making precious, awesome things!
P.S. If you're interested in learning more about sewing with sequin fabric and how my fancy pants turned out, I'll be writing it up in an article all its own soon.