Singer 4411 vs Singer 4423: Which One Is Better for You?
Singer is one of the most trusted sewing machine brands in the market. They have tons of machines for sale and sometimes it seems there are hardly any difference between two models (just look at this other comparison post).
Two models that are often confused are the Singer 4411 and the Singer 4423. Both are heavy duty machines that come in a gray tone. Not only do they look cosmetically similar, many features and dimensions seem identical as well.
If you are confused, we are going to make it easy to distinguish one from the other and find out the pros and cons of each with unbiased info.
We will look at the similar features of both machines and then go into depth about the major differences between them. This will make it easier for you to decide which one is right for you.
Just know, that both of these machines offer reliability and durability, as with all Singer sewing machines. This is why they have earned the respect and trust of users throughout the sewing world.
If you're a beginner, an intermediate, or a professional seamstress, the Singer 4411 and 4423 should have something to appeal to you.
If you are in a hurry, our winner is the Singer 4423 because it comes with a few extra bells and whistles that make it just a bit easier to work with. This is one of the best for managing heavy-duty sewing operations whether you're a beginner or a professional. It also has way over 12,000 reviews on Amazon with 4.5 out of 5 stars (vs. 4,000+ reviews giving the 4411 4.5 stars) But really, they both have 4.5 stars from thousands of fans! So, both are great.
Having said this, both machines offer fantastic features and accessories so you can't go wrong with whichever one you choose. Let's take a look at these two sewing machines and help you decide which is the best one for you.
---
---
Similarities
Although the Singer 4411 and 4423 are different machines, they do have some features in common.
Heavy Duty Machines
Both machine are built for heavy duty sewing use. This means they can tackle your thick fabrics like denim, leather and canvas with ease. They can handle your thick layers for quilts. Heavy Duty machines also provide a low-vibration environment so if you want a machine the doesn't move and shake, this is a good thing to consider.
Motor
As heavy duty machines, the 4411 and 4423 are built with a high performance motor. The strength of a high performance motor gives piercing ability through the thickest of seams.
Metal Frame
As with most Singer models, these machines are highly durable. The 4411 and 4423's internal skeleton are built with heavy duty metal. This sturdy material give the machine rigid supper and helps keep all mechanisms in alignment for vibration-free sewing. This also helps the sewing machine last longer, saving money over time.
Floor Pedal
Both have a floor pedal that offers outstanding control over your sewing. The floor pedal is adjustable with foot pressure so can sew as slow or quick as necessary for each particular project.
High Speed Stitching
You are able to sew at an excellent rate of 1,100 stitches per minute which is considerably faster than many other brands on the market. The stitches will retain an excellent tension even at a faster speed. This comes in especially handy when you are sewing long seams like with drapes or comforters.
Top Drop-in Bobbin
Both machines have a similar top drop-in bobbin system that is highly convenient. It helps you insert, remove, and supervise the thread supply with ease. This style is considered preferable for beginners because it's easier to use and see.
Drop Feed Mechanism
Both machines offers the ability to disengage the feed dogs with a simple lever. This allows you to do free motion sewing, controlling the speed and direction of the fabric through the machine.
Free Arm
Another great feature shared by both is the free arm. This makes it easy to sew narrow projects like sleeves, cuffs or the hems of your skinny jeans.
Differences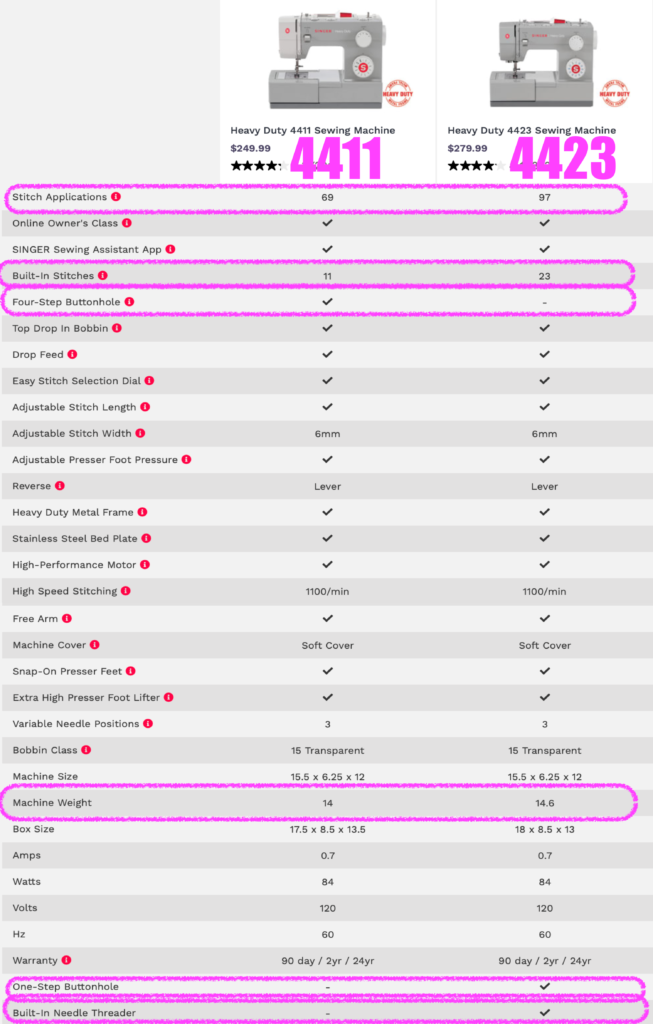 As well as sharing many common features, the Singer 4411 and 4423 also have some basic differences between them. Let's take a look at each one below.
Stitch Applications
A stitch application refers to a specific sewing technique that you can do with a specific stitch. Think of stitch applications as all of the different things you can actually do with your machine. One stitch can have many stitch applications. For instance, with a straight stitch, you can sew seams, do quilt piecing, top stitching, embellish, create basting, and more.
The Singer 4411 offers 69 stitch applications. The Singer 4423 offers 97 stitch applications.
Winner: Singer 4423
Built-in Stitches
The Singer 4411 has a grand total of 11 stitches while the 4423 machine has 23. (Notice 4411 has 11 in the name, which refers to the number of stitches. Same for 4423 with 23 stitches).
Both machines have the regular six basic stitches of straight stitching and zig zag where you can adjust the stitch length and width to your liking using a knob and dial located on the top of the machine.
Both machines use zig-zag stitching on knits but the Singer 4423 has four stitches that are specifically designed to work on knit fabrics. These are found by locating the blue color on the stitch dial.
On the other hand, the Singer 4411 only offers four decorative stitches but you can choose the stitch's width and short stitch length with both to mimic embroidered enhancements.
Winner: Singer 4423 with 23 built-in stitches.
Buttonhole Stitch
While both machines provide a foot for buttonholes, the Singer 4411 uses a more manual method. You need to be aware of your button's size and then add 0.3 cm (⅛") to include the bartack situated on the top and bottom of the buttonhole.
Once the stitch density is chosen, you must then set up the sewing machine manually at the bottom of the buttonhole. Next, you have to sew step one before sewing the remaining three sides of the buttonhole.
The Singer 4423 sewing machine is built with a special buttonhole foot which includes a slider center. Simply attach this foot to the machine and place your button on the buttonhole foot.
Easy as that! This method means your machine automatically knows the length and width of your button leaving you with the easy task of selecting the buttonhole and pressing the pedal. Voila! The Singer 4423 has then made you a perfect buttonhole.
The Singer 4411 offers a 4 step buttonhole. The Singer 4423 offers a 1 step buttonhole.
Winner: Singer 4423
Weight
The 4423 is slightly heavier than the 4411. Not much but technically it counts as a difference.
The Singer 4411 weighs 14 lbs while the 4423 weighs 14.6.
Built-in Needle Threader
The 4423 has a built-in needle threader while the 4411 does not. This feature really cuts time and frustration, making it a welcome option for beginners and often a must-have more experienced sewists.
Winner: Singer 4423
---
Pros and Cons
Pros
Sports a strong and powerful motor for a better working ability
Its rate of 1,100 stitches is amazing with an excellent stitching ability
Its heavy-duty nature allows you to stitch heavy materials easily
You are guaranteed to get superb value for money with the 4411
Overall performance is very good and reliable
Cons
Only 11 built-in stitches available
Less stitches means less stitch applications
There is no automatic needle threader with this machine meaning you have to manually put the thread to the needle
Pros
Sports a strong and powerful motor for a better working ability
Its rate of 1,100 stitches is amazing with an excellent stitching ability
Its heavy-duty nature allows you to stitch heavy materials easily
You are guaranteed to get superb value for money with the 4423
Overall performance is very good and reliable
Cons
Lots of stitch applications may go unused as there are so many!
A teeny bit heavier than the 4411
---
The Final Touch (a.k.a. Our Final Thoughts)
The Singer 4411 and 4423 are fantastic machines worthy of consideration by anyone interested in a heavy duty sewing machine. Both are powerful with an array of similar features. Being very easy to use, these sewing machines are a favorite among seamsters all around the world.
If you are looking for a basic machine that will hem your jeans and do simple upholstery work, then the Singer 4411 will be perfect for you. With added decorative stitches, it also gives you the option of designing your clothes more uniquely.
On the other hand, if you intend to work with a lot of knit fabrics and not just straight stitches, the Singer 4423 is a better choice. This machine will help you design your projects with a good range of decorative stitches built-in. Its fully automatic one-step buttonhole feature is perfect for sewing buttonholes adding convenience to your workload. Having the built in needle threader is that little extra feature that can make a big difference in ease of use.
You can't go wrong with either choice!
Happy sewing!