Best Sewing Classes in 2022
Looking for a sewing classes? COVID quarantine has sewing machines flying off the shelves. But now that you have a machine, what do you do with it? cheap human hair wigswigs on salebest human hair wigs onlinehuman hair wigs cheapbest human hair wigs onlinecustom wigsbest wigscheap human hair lace front wigswig shopscustom wigshuman hair glueless wigswig storesbest wigs on amazonhuman hair wigs lace frontbest wigs for black womenbest wig outletlace front wig human hairwigs storewholesale wigshuman hair wigs for black womencheap lace front wigsbest wig outletwigs storeswig store near mebest human hair wigs onlinewig shop onlinewig storesheadband wig human hairbest wigs for white womenblonde wigwig outletash blonde wigwholesale wigscheap wigbest wigs for black womenwig for salecustom wigsbest online wig storeglueless wigs for beginnersSynthetic Wigscustom wigs
You've got plenty of choices for sewing classes – you just need to find the one that looks best for your needs. We've got a big list that includes everything from niche sewing schools to the broader educational websites. We'll show you examples of how to find local in-person options as well as helpful YouTube resources. Check out the list and let us know what you choose.
If you are just getting going, online sewing classes are a great option. It gives you a chance to watch, pause as needed and replay. My mom has been part of a quilting guild for years and loves to take in-person classes. When quarantine orders started, she had to resort to online classes. To her surprise, the classes were fantastic. All of a sudden her favorite sewing shops were offering classes online, which made it possible (and super easy) to take classes with her favorite "sewlebrity" teachers that are located clear across the country. If you can't travel and get to your class, get your class to you! Unexpected silver lining of the lockdown. More details about that below.
Here is our curated list of sewing classes including beginner and advanced options. Most of these sewing classes listed here are available online in some way. Even the local community classes are offering a hybrid option to minimize Covid risk. You can get started asap, progress at your own pace and you don't even have to leave the house. We start with broader educational websites that offer specialized sewing classes and work our way down to the more niche and local resources. Whatever you prefer, you'll find something to inspire you and take you further on your sewing journey.
Broader Educational Websites
Udemy
Udemy is a database of classes across many categories. You can find virtually anything you are looking for on this site. They offer sewing classes for beginners to help you get to know your machine and learn the basics. Tons of "how to" classes – tote bags, cushions, how to work with patterns, how to use a serger, how to work with difficult fabrics and more. They go deeper into different categories too like fashion design, embroidery, pattern design and how to build a sewing business. If you are already familiar with Udemy, definitely check out their catalogue of sewing classes.
---
Skillshare
Skillshare is an online learning community that offers countless creative classes across many categories. In addition to sewing, they offer many classes on design, photography, gardening and illustration, to name a few. One of their most popular sewing classes is "Quick and Dirty Sewing: Machine Crash Course." Sounds like a fun and inviting sewing class for beginners right?
Along with classes, Skillshare offers workshops that include a curated set of classes that you can join with other students so you can share feedback and insights. You'll follow a calendar and get prompts to help you stay focused too. Skillshare has a 14 day free trial and then a subscription is required to continue accessing the classes. It's $8.25/month if you sign up to be billed annually or $19/month if you prefer monthly billing. The cool thing with Skillshare is being able to access all different types of creative classes.
---
Craft / Sewing Educational Websites
Craftsy
Craftsy makes it easy to learn new skills through tailored project kits and sewing classes. Like the above mentioned sites, Craftsy also offers a wide array of classes across categories but Craftsy categories are more specific to the "maker" sector including sewing, crocheting, knitting, quilting and more. Craftsy offers newsletters and live events to boost the interaction too. Subscriptions are $7.99/month of save some cash ($15.89) by going with the $79.99/year plan. Alternatively, you can purchase a class a la carte for $9.99.
I purchased a year's subscription and used it throughout 2021. The hand bag tutorials were fantastic. I finally got interfacing down pat. I also made a fun princess cape for my daughter – but we put a Cruella De Ville spin on it. Fun, easy to follow and high quality content by many respected sewing artists.
---
Creative Bug
Creativebug gives you unlimited access to arts and craft classes in the comfort of your own home – or wherever you want to take your laptop. Their secret sauce is their instructors – all of whom are artists, creative experts, activist and teachers. Take class with Yao Cheng, Lisa Congdon, and Marly Bird just to name a few.
A subscription with Creativebug gives you lots of room to grow. Start with sewing classes for beginners, or learn a foundational skill like how to sew zippers. Or if you are more interested in designing fabric, they've got you covered on that too. Added bonus, Creativebug gives a percentage of each subscription to nonprofit focused on arts education. Subscriptions start at $7.97/month with options for annual billing to save some money.
---
Specialized Sewing Classes & Schools
Sew Over It Stitch School
Sew Over it Stitch School is committed to teaching as many people as possible how to sew. Founder Lisa Comfort founded the site in response to her gut feeling that sewing was becoming a lost art. Well, one happy result of the COVID pandemic is a new interest in the skill. Hooray for silver linings!
The team adds new sewing classes every month, posts tutorials for specific skills and offers pattern tips and tricks – along with their own patterns. You can choose a project class for a smaller, fun option to test your skill, or a classic course that guides you from choosing a fabric to putting the finishing touches on your make. Sew Over It is London based so their £45.00 fee for the first 3 month of your subscription comes out to about $61.15 USD. After the 3 month charge the subscription moves to once a month charges of £15 or $20.38 USD. Check out their free classes for a sample or two.
---
Seamwork
Seamwork focuses on the adventure of making your own clothes. Yep, that's right, all sewing classes on this site. The Seamwork subscription includes patterns, classes and a community to help you make your own clothes whether you are just starting out or refining your skills. You can check out their podcast or social media to get in an idea of their approach and once you're ready to go, subscriptions start as low a $4.83/month and go up to $15/month.
---
The New York Sewing Center
The New York Sewing Center offers all kinds of sewing classes for aspiring and advanced stitchers. Check out the website and see options for in-person or online (zoom) private classes. They are great when you are working on a project but are stuck and need some professional coaching to help finish your project. You can also take courses that span weeks – again, beginner classes all the way to how to make customized jeans. They offer kids classes too.
The New York Sewing Center is run by Kristin Frailing, a womenswear fashion designer and sewing instructor based in NYC. She has an education in Fashion Design and Merchandising so she knows her craft in and out.
---
Vintage Sewing School with Evelyn Wood
Evelyn Wood provides a one-of-a-kind experience with her online Vintage Sewing School. She provides sewing classes that teach the art of dressmaking, altering, mending and refashioning. Instead of focusing on sew-alongs, she teaches the fundamentals of sewing so you can learn how to create with confidence. I love that her approach encourages sustainability and style. Evelyn is quick to respond to questions via email too. Highly recommend.
P.S. Evelyn has a gorgeous vintage style of dress but the class is not specific to it. In this case, think of "vintage" as the tried and true skills of sewing that have stood the test of time.
Sew It! Academy by Mimi G
Mimi G is a celebrity in the sewing world. You may have seen her sewing classes on Craftsy or her patterns in your local sewing store. Her online sewing school is just as cool as she is. You can choose from Womenswear, Menswear, (or a combo of both) and a Kids track. Each class builds on the previous one and you can go through them at your own pace, allowing as much time for practice as you need. Classes are added each month so you'll always have something new to learn.
Sew It! Academy sewing classes are designed for beginners with little to no experience sewing. It's reasonably priced too. Check it out.
---
Sewing Classes Near Me
Local Community Colleges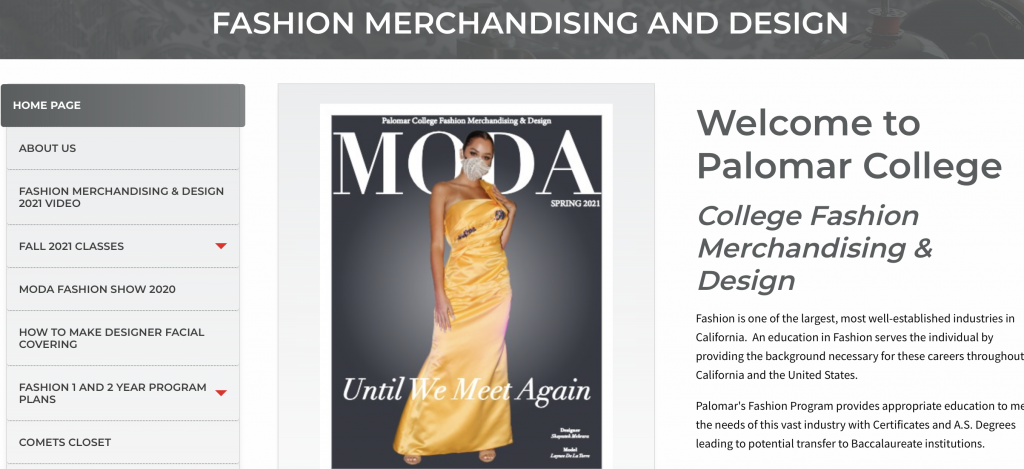 Community colleges often offer sewing classes at a reasonable cost. You can sign up for individual classes or for a full curriculum towards a degree. Sewing classes are usually part of a larger course of study in fashion design or something similar that is designed to prepare students for work in the fashion industry. They are definitely worth a look!
Here in San Diego, there are a couple of noteworthy fashion programs offered by the local community colleges:
San Diego Mesa College
San Diego Mesa College offers a Fashion Design Certificate of Achievement with the option to choose one of four specializations; Fashion Design, Fashion Merchandising, Computer Fashion Technology: Design, or Computer Fashion Technology. The college also offers an associates degree that can stand alone or be used towards a bachelor's degree.
Palomar College
Palomar College's fashion design program prepares students for a careers in the fashion industry as well. The program covers pattern making, illustration and fashion design, and includes classroom work, lab work and cooperative education opportunities. My daughter's sewing teacher (who is incredibly talented and accomplished) recently enrolled in this program to polish off her skills and she said it's been great, even for an advanced student.
Outside of San Diego
If you are not in San Diego, a quick google search for community college sewing or fashion classes should return local options in your area.
Community Sewing Class / Adult Continuing Education
Very often you can find community classes (a.k.a. adult continuing education classes)at economical prices or free.
San Diego Continuing Education
Part of the San Diego Community Colleges, San Diego Continuing Education offers great sewing classes at no cost. Check out San Diego Continuing Education's Clothing and Textile Arts Information Center for more information. On the website, you'll read plenty of success stories about local citizens that used the free classes to launch a new business or find new employment. The teachers are fantastic – and very enthusiastic about sewing.
Community Sewing Classes in Your Area
If you are outside of San Diego, look up your your local equivalent by searching for community or adult education centers in your area. You can often find options to learn a new skill at low or no cost.
---
Local Sewing Stores
If you are looking for "sewing classes near me" you are in luck. Many local stores offer in-person class with local teachers. If you've been wanting to take a local class with teachers from your own community, check out the store website to see if you can take the class in person or online.
Sewing Machines Plus
Sewing Machines Plus is the largest online sewing machine retailer but they also have local stores in Southern California where they regularly host classes in person. You can take class in their San Marcos or Mission Bay locations. Their calendar of classes is available here.
Paradise Sewing
Paradise Sewing is another fabulous sewing store that offers class. They are located in Poway, CA and have an incredible selection of quilting cotton – along with pretty much anything else you may need for a project. Their sewing classes are held in a spacious room that welcomes all levels and is super friendly. You'll immediately feel like you are a sewing party. Their schedule of classes is available here.
Sewing Stores Outside of San Diego
If you're not in SoCal, check the website for your local sewing, quilting or craft stores.
---
Local Sewing Schools
Local sewing schools are great because they are focused on the craft and usually go deep. Here in San Diego we have a few to choose from. I've personally heard great reviews about these three.
Sew O'Side
Sew O'side, located in Oceanside, offers beginner-friendly classes and workshops for adults and children. They have events like camps, sew-alongs and birthday parties too. If you've ever seen their instagram page, you know they have a lot of fun and talented young makers taking class there.
Sew Inspired Studio
Sew Inspired Studio is located in San Marcos (relocated from Encinitas) in a home studio of Laura Prince. This studio provides after-school lessons, birthday parties, mom & me private lessons, adult sewing classes, and more. This school has a special mission – to educate churches and give them the necessary tools and resources to create a special needs ministry at THEIR church. So when you take class with Sew Inspired, you are helping an important mission too.
Gwen Couture
Gwen Couture is located in the North Park neighborhood of San Diego and offers small classes with hands-on, personalized coaching to help sewists develop and strengthen their garment making skills. The classes are project based and designed for the beginner to intermediate sewist. Bring your own machine or use one of theirs to learn how to sew. (Gwen Couture also does custom design sewing!)
Sewing Schools Outside of San Diego
If you are outside of San Diego, do a quick google search for local sewing classes and teachers to find great options near you.
"Live" Online Classes with Sew-lebrity Experts
With all the new online options this is the chance to take a "local class" with a teacher or expert you love even if they are not local to you. In general, this is for more experienced sewers that are refining a skill and want to work with a particular expert to learn more about her or his approach or style.
If you've been sewing for a while and you have a favorite "sewlebrity," check their website site for a calendar to see if they are offering virtual classes. You can find amazing options like this quilting class with Claudia Dinnell of Claudia's Creations. This is especially cool because these classes tend to be more interactive (vs watching videos on your own). My mom signed up for this class as soon as it was available! Before, she would have planned a costly, out-of-state, in-person trip to attend one of Claudia's classes. Now she's taking the class right from her own living room.
---
Youtube
If you want to skip the coursework and watch sewing videos on YouTube, there is no shortage of great material for you. (See what I did there with material. So punny right?) There is so much to check out on Youtube that we plan to write an entire separate post on it. Here are some great ones to get you started.
Anita offers detailed sewing tutorials and sew-along videos for beginners. She clearly loves what she does.
Erin sews bras and swimwear and posts tutorials for both. If you have any interest in bra making, this is a fabulous place to find inspiration and direction. She also sells bra making kits that make it easier for beginners. Try not to get distracted by the gorgeous laces fabrics…
Micheal teaches how to sew garments like the industry professionals, on a domestic machine.
Wendy is incredibly talented, inspiring and super funny. She takes on sewing challenges every week and documents the whole thing.
Aneka Truman, a London College of Fashion graduate, teaches sewing and dressmaking techniques for a professional finish. Arguably the best free resource for learning how to sew online, this channel covers A LOT and is user friendly too. Aneka also offers private sewing classes (for a fee) and sewing patterns over on her website.
A local San Diego sewing teacher recommended this Youtube channel to me when I asked for a great home learning option. This channel covers sewing fundamentals, hand sewing, garment construction, quilting, and more with step by step tutorials.
Learn from an award winning sewing studio! Classes for total beginners to advanced pattern-cutting.
Fun and informative videos on sewing, DIY fashion, current trends and vintage styles by besties Rachel and Nikki.
---
Sewing Machine Manufacturers
The major sewing machine brands often offer sewing classes on their website. So, if you just got a new sewing machine, don't forget to check out the manufacturer's website to see if they included some handy videos to get you started with your new sewing machine. These "sewing classes" are usually free and often specific to your sewing machine so definitely worth a look.
Lots of videos about operating and using Brother machines along with beginner tutorials.
Singer provides friendly insights on their machines and how to use them on their YouTube channel.
Like the other big brands, Janome has informative videos on how you can use their machines too.
The Finishing Touch
We're confident you'll find what you are looking for somewhere on this list! Let us know if you've tried any of these sewing classes and what you thought about it – we are all ears.
If you know about any great classes that didn't make it to this list, let us know! We'll be happy to add it so other stitches have the most comprehensive list to choose from.
As always, happy sewing!
Still not sure where to start? Here are some Sewing Classes near you