The Best Sites for Machine Embroidery Designs
This is your ultimate guide to finding machine embroidery designs – free, in the hoop, items for purchase, best software to create your own designs and more. We've rounded up our favorite places for machine embroidery designs websites and embroidery designs online so you are sure to find something you love.
(If you are looking for information about transferring embroidery patterns for hand embroidery check out our article here.)
But first, a little background for the new comers. Embroidery is the art of using needle and thread (sometimes yarn or embroidery floss) to sew a design on to fabric. If you think of sewing as the construction of a garment, you can think of embroidery as decorating the garment.
Embroidery goes back ages, and in the "old days," it was done completely by hand. When embroidery machines first came on the scene, professionals used them to adorn fabrics with designs with efficiency and speed. Increasingly, hobbyists are joining the ranks of the pros, and using machines to hone their craft. It doesn't hurt that embroidery machines are available at a range of price points so the everyday crafter can get their hands on one if they want.
Makers can still choose hand embroidery or they can purchase an embroidery machine. There are lots of varieties – some computerized, some having only one needle, and other advanced machines having several needles for quick speed.
In this article, you'll find tips, tricks, and information about machine embroidery designs. And of course, great places to find machine embroidery designs freebies.
Where Can I Find Free Machine Embroidery Designs?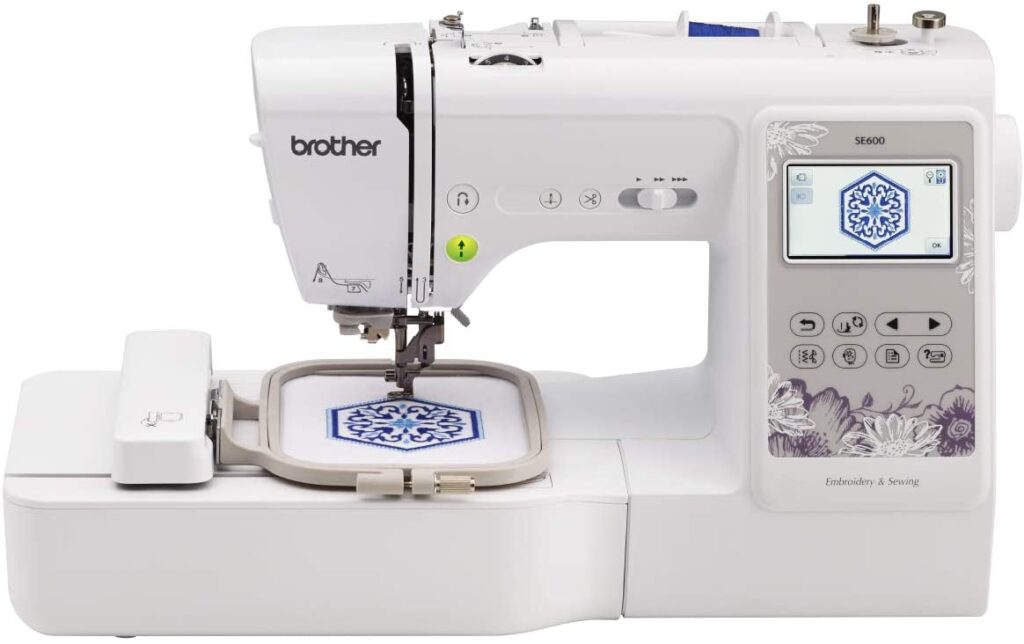 When you buy an embroidery machine, it usually comes with some embroidery designs included. This is a great place to start, especially if you are learning how to embroider and you are still getting to know your machine.
There are tons of places to purchase additional designs but if you are not willing to spend your hard-earned cash just yet, then here is a listing of a few websites to check out that offer free machine embroidery designs. Many design makers provide machine embroidery designs freebies so that you can download some samples and try out their styles before purchasing additional design in the future. Most designs are available by digital download so you'll get them immediately.
TIP: Make sure that when you download a design that you are getting the correct format fit for your machine. Often a design comes with all formats even though you will only use the one that works for your machine. For example a JEF file for Janome. Sometimes, if you purchase a low priced design for a $1 or so, it come in one one format – make sure you choose the right one or your machine won't be able to read it.
Sites with Free Machine Embroidery Designs
Most of the sites below offer free machine embroidery designs for sale but have a free section. That's where you want to start for your machine embroidery designs freebies.
You'll find a range of products, classes, inspiration and free projects here. Go straight to the free projects page for a selection of free machine embroidery designs to try. Sulky also offers free downloadable "cheat sheet" guides for threads, fabrics and stabalizers. Definitely a site worth checking out.
This site offers some free machine embroidery, appliqué and in the hoop designs. Site founder, Heather is passionate about machine embroidery and her love for the art is apparent in her designs. She offers free machine embroidery designs in addition to designs for sale.
Urban Threads is well known and loved for their fresh, bohemian and unexpected machine embroidery designs. If you have a rebel heart, start here! They also have some hand embroidery designs available. Urban Threads has tons of cool and interesting categories from world cultures to subcultures (think steampunk, rockabilly, retro, etc) in addition to broad categories like flowers and character. You can easily get lost on this site. If you are looking for free machine embroidery designs go straight to the freebie section. If you are in to modern styles with a little edge or unique machine embroidery designs, this will quickly become a favorite resource for designs.
Considered by many to be the "go-to" place for creative designs and in the hoop embroidery designs. Bags, quilts, appliqué and more – there is so much on this site. In addition to designs, you'll also find sew alongs, supplies, and courses. Head right over to the Free Design section if you are hunting for free machine embroidery designs – and try not to get distracted if you can!
Founder Steve Wilson is all about custom designed works of art. It shows! There are many intricate designs available on this site. You'll also find courses, tutorials and the like. Anita Goodesign offers a few free machine embroidery designs but you have to hunt for them. Go to to their design section and sort by price. You'll see a few free options there. Lots of unique machine embroidery designs here.
Embroiderydesigns dot com allows you to download three free machine embroidery designs every week after making an account on their website. After making a purchase of $35, you can download 6 free designs every week. If you make a purchase of $75 on their website, then you are eligible to download 9 free machine embroidery designs every week. The site is a little old-school but there are tons of designs to choose from.
This website is literally one of the cutest websites that are out there on the internet. It has a ton of adorable designs for babies and kids. They also have a vast collection of freebies and freebie sets. You can subscribe to their newsletter if you want to receive free machine embroidery designs every week.
Falcon embroidery digitizes designs into embroidery so they have designers and digitizing capabilities. They offer lots of free machine embroidery designs on their website so you can check out their capabilities before using them to design and digitize unique machine embroidery designs. You can also sign up to get their daily freebie alert via email for a free machine embroidery designs.
Admittedly, the name of this design shop alone stole my heart. The designs are pretty awesome too! Ann the Gran claims to have the most extensive library of free machine embroidery designs on the internet. You can download 3 each week. There is a gal on the team with a background in illustration, design and fashion so you can count on great designs with this website.
Most sites have a section that is explicitly labeled free or freebie. They don't request payment for the freebies. You won't get a hidden charge if you never enter a method of payment. Sometimes you have to enter your email address to get free machine embroidery designs. In this case expect email marketing.
TIP: Keep in mind, there are copyright laws regarding famous characters like Disney characters. Always read the fine print regarding these, especially if you plan to sell your creations after you are done embroidering. There can be fines for selling some images that you are not supposed to sell.
How to Make Your Own Machine Embroidery Design?
Ever wonder how to get unique machine embroidery designs that are one of a kind? There are a lot of websites where you can download great and professional looking machine embroidery designs. The good news is that such websites update their sites with new designs all the time. However, if you want something that is truly personalized and uniquely specific to you, then you can make your own designs too.
Embroidery digitizing software allows passionate individuals to make machine embroidery designs from scratch. It enables them to have full control of what they want. They are costly, but they are worth the price if you want to get into designing or plan on earning money from selling proprietary designs.
If you don't think you'll be creating new embroidery designs on a regular basis, you can hire a digitizing company to digitize your design or to create the design you want and then digitize it so that you can use it in your embroidery machine. Falcon Embroidery (mentioned above) is an example of a company that can design and digitize a pattern for your embroidery machine. If you are curious about embroidery digitizing software read on in the next section.
How to Make Your Own Machine Embroidery Designs
If you want to make your own machine embroidery design you'll need to purchase software to design and digitize your art into files that your embroidery machine can read.
The best embroidering software for you largely depends on your personal preferences. However, you also will need to consider the following items.
Budget: Software starts just below $100 and easily climbs over $1000. It can be quite an investment so make sure it's something you'll use regularly.
Your Computer's Operating System: Most digitizing software runs on a PC. If you have an Apple computer your options are limited.
Software Capabilities: What are your goals? Can you purchase an entry-level program and get add-ons as you go?
Design Complexity: Do you want to create photo-like designs or more simple ones? You may want to check out what kinds of textures and effects your software can accommodate.
Some programs lend themselves to those with a production background while others are favored by graphic designers. It really comes down to preference. Many software products come with a trial phase so be sure to take advantage of this and try the program to make sure you like working with it.
That said, here are the top embroidery software options on the market. Test them and see what you like best.
Best Embroidery Software
Hatch
Hatch is a world leader in embroider software. The program auto-assigns stitch aspects based on the dimensions of the items you make. This puts a lot of the design on "auto pilot" so don't have to get too deep in the weeds – very helpful when you are learning the ropes. Hatch offers a 30 day trial and different versions that range in cost and capability.
Floriani
Regarded as an elite brand, Floriani software is simple enough for beginners and has advanced capabilities to satisfy the experienced embroidery designer. This is a highly respected brand and they are known for providing excellent support and lots of tutorials on their website. They don't offer a trial period and the price tag is pretty high so definitely do your research.
Embrilliance
The Embrilliance software company describes their product as "software for the rest of us." In that spirit, it is compatible with MAC or PC, you get both versions with your purchase and you can use it on multiple computers (even if you use it in a studio or shop across various computers!). While they don't have a trial period, they have a generous 90 day money back guarantee. They offer different levels of programs and the higher the level, the more tools are included. You can upgrade as needed.
How Are The Machine Embroidery Designs In The Hoop Beneficial?
When we think of embroidery machines, we think about embellishing a project with a pretty design or personalizing it with a monogram. BUT, embroidery machines can do more than this! With an in-the-hoop project, you can use your machine in a new way and risk addiction in the process. I mean that in a good way!
In the hoop projects are awesome because most can be completely in a day – highly satisfying, especially for us immediate gratification types. These projects are generally simple and quick to make so they are great for making things that you want to sell. Because you can customize them, you can often sell at a competitive prices.
What is In The Hoop Machine Embroidery?
Technically all embroidery is done in a hoop. However "regular" embroidery and appliqué is done to embellish an item that is already made. This includes embellishing a shirt, a towel or a tote bag, with a monogram or something like that.
In the hoop embroidery is a specialized type of embroidery where you use the embroidery machine to create the item "from scratch" such as mug rugs, felt dolls, small purses or stuffed animals.
With machine embroidery in the hoop projects (also called ITH), your embroidery machines does almost all the work. When you work with an in the hoop machine embroidery design, your machine does all the stitching for you for the entire project. This means no need to match up seam-lines or pivot corners. You simply follow the instructions of the design pattern and sew a small project completely in the embroidery hoop of your machine.
In-the-hoop machine embroidery designs include instructions for you to follow (mostly placing fabric or notions over your hoop) so that the embroidery machine can stitch them together for you. Most projects are small yet awesome, and even better when customized. Think luggage tags, zipper bags, pot holders, monogrammed quilt blocks, fanny packs, coasters, or little fabric ornaments, wallets, phone cases, bookmarks – and the list goes on.
They are relatively quick and simple to make. Machine embroidery in the hoop can be especially useful if you plan to sell your projects. Because you can customize and personalize these, you can sell them at competitive prices too.
Lots of people love to see sewing projects come to life in short order and in the hoop embroidery projects don't disappoint on this front. People love the (relative) simplicity of in the hoop machine embroidery projects.
Where to Find Projects for Machine Embroidery Designs In the Hoop
This is a popular site that offers in the hoop projects, designs, and appliqués, all digitized in house. Their products come with detailed step by step instructions and include lots of photos making them easy to follow along.
Embroidery Garden is provides in-the-hoop machine embroidery designs, appliqué files and other creative projects. Check out the freebie section.
The owner and artisan of Design by Babymoon offers lots of projects that celebrate milestones in the life of families. She combines skill with emboidery machines and computer software to create beautiful and useful designs.
Shop this pretty website for embroidery designs or vinyl. Zipper bags, coasters, earrings and more. I especially like the elf clothes – perfect for Elf on the Shelf.
Find a free design each month on BB Embroidery Designs.
Great projects and a community to share and connect too.
Embroidery File Formats You Need for Your Machine Brand
Each brand is unique and has their own embroidery file format because it creates brand loyalty and makes you less likely to switch machine brands. Imagine you've been collecting a library with hundreds of designs that work with your Babylock machine. You won't be so quick to try a new machine brand that doesn't work with your files. Keep this in mind when you get new designs – remember to keep all file formats when you download something new so that you have them for any future machine you may get.
Machine Brands and their Embroidery File Format
| | |
| --- | --- |
| Janome | JEF |
| Bernina | Art |
| Husqvarna / Viking | HUS, VP3 and VIP |
| Brother / Babylock / Deco | PES / PEC |
| Singer | XXX |
| Pfaff | PCD, PCM, PCS |
| Tajima | DST |
| Melco / Bravo | EXP |
Most embroidery designs will be available in various formats so just make sure you get the right one for your machine.
Free Machine Embroidery Designs PES Format
We often get asked specifically, what are .pes embroidery design files? PES is a stitch base file format used by Brother and Babylock domestic embroidery sewing machines (see table above). You can find such formats at any of the outlets listed in this article. Most designs are available in each format so you can use the right one for your machine. See the above table for a list of brands and the file formats they use.
Free Machine Embroidery Designs in JEF Format
Another common question is, what is a JEF format file? Janome embroidery machines use JEF files. You can find designs at the outlets listed throughout this article. Sites usually offer various files formats since embroiderers use all kinds of different machines. See table above for details.
Where to Buy Embroidery Machine Designs?
Purchasing design or design bundles can be more economical than purchasing design and digitizing software. You can often purchase designs for as little as a dollar. Just make sure to choose the right format for your machine. The cost goes up depending on complexity of design.
Here is a list of great places to purchase embroidery designs including in the hoop machine embroidery design projects and machine embroidery appliqué designs.
Many of these have been mentioned earlier in this article but I've re-listed them since they also offer design for sale (vs. freebies).
The Ultimate List of Where to Buy Embroidery Machine Designs Online
In no particular order:
What You Need to Get Started with Your Machine Embroidery Designs
Don't forget to get all your supplies so you can jump right in with your machine embroidery designs. There is nothing worse than setting up your machine, spending time choosing the perfect design to try and then not having the supplies you need to actually make the project.
Necessary Supplies to Get Started with Machine Embroidery
If you choose the machine route (vs the hand embroidery route), you'll need the following supplies.
Obviously, your machine! There is a range of embroidery machines on the market at various prices and that come with different bells and whistle. Check our other articles if you need help choosing and purchasing an embroidery machine
Embroidery thread
High quality embroidery thread is designed for strength, durability and clean performance on embroidery machines that work at high speed. The most common types of thread is cotton, rayon and polyester. Cotton is not as strong as the other two and the colors are usually less vibrant. But it's a natural fiber so people love it, especially quilters. Rayon is strong and is loved for its softness and pliability. Polyester is very strong and colors are very vibrant. They have the best balance for cost and performance.
Stabalizer: Also called "backing," stabilizers are necessary for machine embroidery as they create the stability required to machine embroider onto fabric. It's the piece of fabric located behind the stitching. You've probably seen it on embroidered shirts – even behind little logos.
It's important to choose the right stabilizer for the job at hand. In general use a heavier stabilizer on heavy fabrics. Here is quick guide to the 3 major types of embroider stabilizers.
Cut Away Backings – provides the most stability and stays on the garment after you finish the embroidery. They also help prevent stretching of the design with repeat wear and tear. Think, durability for knit and stretchy fabrics.
Tear Away Backings – less stable than cut away stabilizer and are removed from fabric after embroidery is completed. This is often used for towels and linens – think, light support for less stretch fabrics.
Water soluble stabilizers – these dissolve in water. It disappear 100% so it's preferable for delicate, sheer or mesh-like fabrics where no remaining bits of stabilizer fabric should be seen on the right side.
Embroidery scissors: Scissors that are specific to embroidery have smaller, thinner blades, are super sharp and a have a pointy end. Their design allows you to get closer to the fabric and cleanly cut individual threads.
Fabric or items to embroider
Good lighting: whether it be from a sunny window or a bright lamp, good lighting is a must.
Organized storage system: This will make life easier if you find yourself with lots of thread, hoops of various sizes and sharp needles and scissors to store.
What's Your Take on the Best Embroidery Design Sites?
What are your favorite sites to get embroidery designs? Did we miss any great ones? Let us know and we'll add them to the list so anyone looking for machine embroidery designs can access it.
Happy sewing!