How to Alter Jeans: Get That Extra Half Inch in Your Skinny Jeans
I'm over due to alter jeans. I've got a pile of skinny jeans that are literally collecting dust. They fit alright BUT I'm tired of super skinny jeans. Plus, they aren't exactly the most comfortable thing to wear around the house. We've been in quarantine-mode for nearly a year and I'm ALL about comfort these days. However, I do like to feel like I actually got dressed (skipping the athleisure and yoga pants) so my go-to quarantine uniform is typically cute jeans and a sweater.
I'm ready for a little bit of new style but I hate the idea of getting rid of perfectly good denim that is worn in and well loved. Also, I find it a nightmare to shop for jeans, especially online. All that to say, this pile of denim was begging for some upcycling love and refashioning creativity.
I've been searching for a way to alter jeans to make the legs wider – just a little less skinny, a little more comfy, a little more modern style. Initially I was planning to try to make them into straight jeans but that wouldn't work for a few reasons. Firstly, I didn't want to cut the jeans open (scaredy cat, I admit). Secondly, I didn't want to add a strip of different material to them. Finally, I really wasn't sure I could pull off true wardrobe surgery (yet!) and I didn't want to practice on a pair of jeans that I love. What's a gal to do?
Clearly, you can't make something out of nothing so making a ready-made garment bigger is a tall order without adding material to it. Luckily in my hours of searching google, YouTube and various blogs, I stumbled on an older post (old enough that the images were no longer available) that explained a way to get 1/4 – 1/2 inch more materials out of the seam to add a smidge more width around the leg. This is exactly what I was looking for.
Here is a before/after comparison, followed by the super easy instructions for how to alter jeans to add an extra bit around the leg width.
Steps to Alter Jeans to Make Leg Width Bigger
Here is what I did along with some pics for clarity.
Turn legs inside out.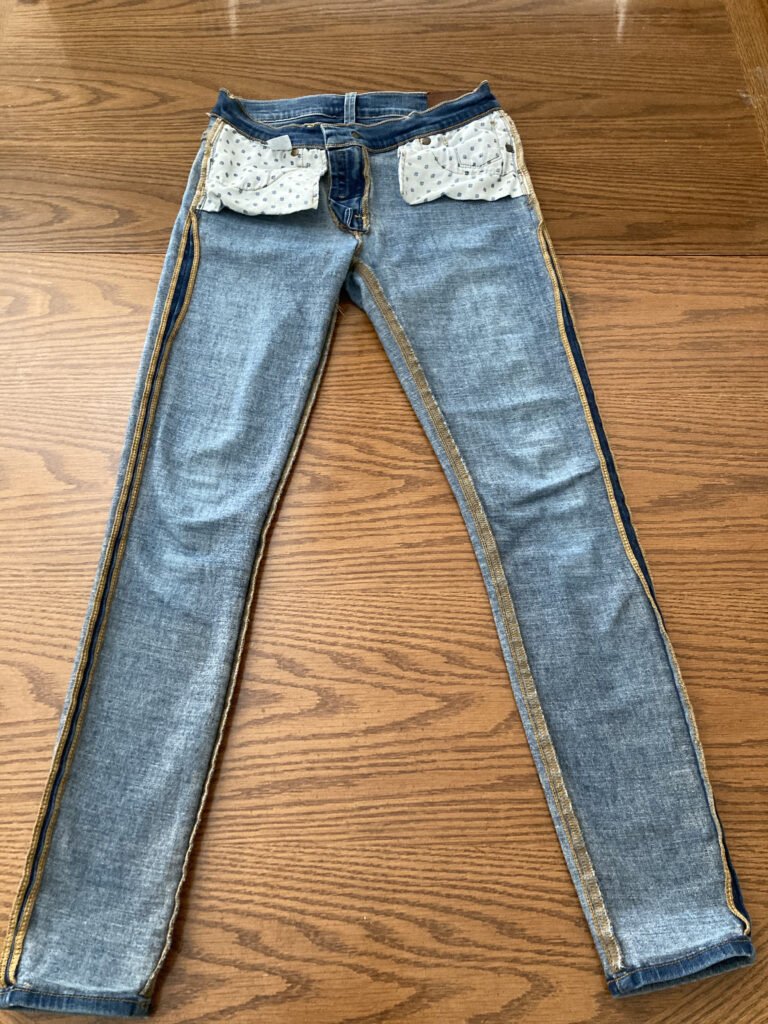 2. Find the serger seam on both legs. In my case, the outside seam of each leg was the clear choice. You can see how they two side are sewn together and the little bit of extra material between the sewn seam and the serger seams.
3. Sew along the inside edge of the serger seams.
4. User a seam ripper to open the original seam. Clear out any stray threads. (With these jeans, I only opened the legs up to the pocket area. I left the hip area alone since I didn't want to change the size/fit up top.)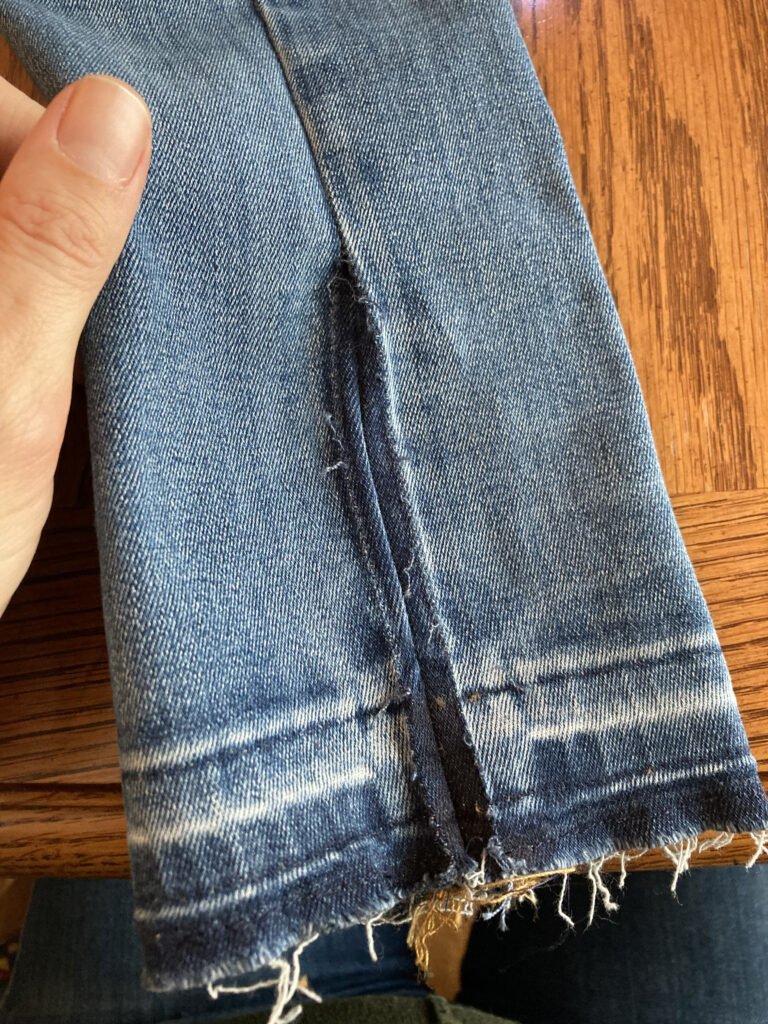 5. Press the new seam open with an iron. This will let you see just how much width you were able to add.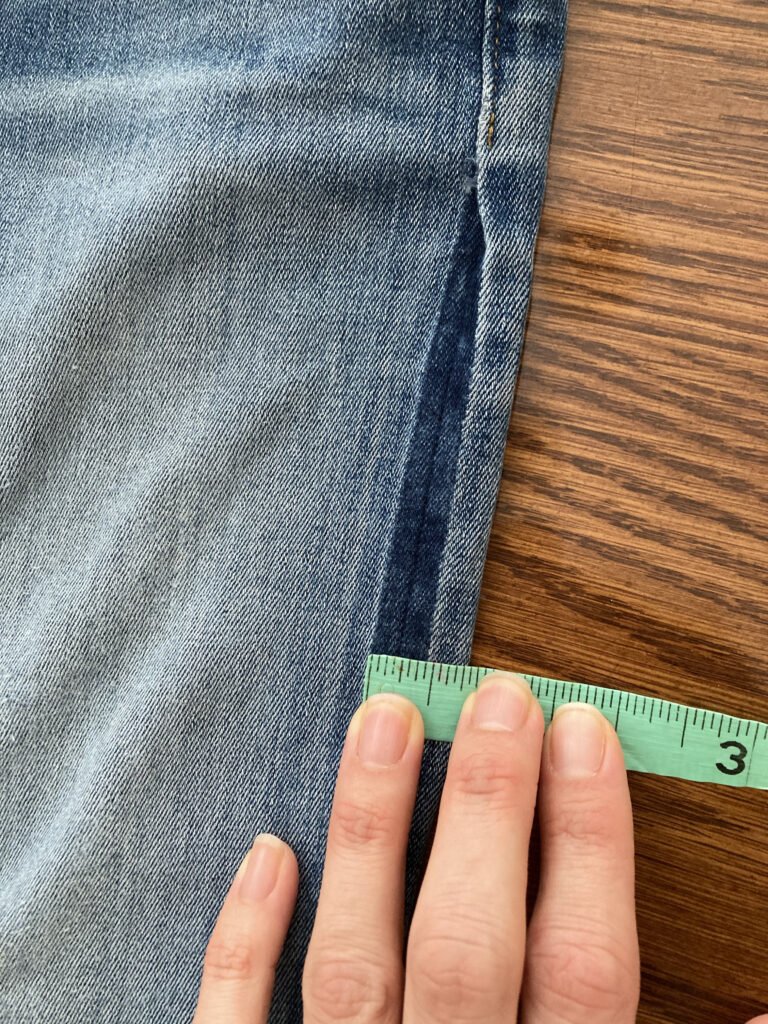 6. Optional Raw Hem: I opened the hem on the bottom of the jeans too. This gave me over an extra inch of length. I ironed it out and then stitched around the bottom to minimize fray. Raw hem for the win!
The Final Touch
All in all, I'm very pleased with how these turned out. The two tone adds a little extra something and the raw hem gives a new detail that I love.
You can see the almost 1/2 inch of additional width in the leg along the sides. It didn't modify the size all that much but did add that little bit of extra comfort I was hoping for. Thankfully these jeans will avoid the goodwill pile and return to the regular rotation. Added bonus that they work great with Uggs which are nearly essential right now with our cool SoCal winter that requires cozy options but not quite full-on winter gear.
This was a super easy way to alter jeans and change up a pair of my favorite Luckys. Pretty quick too. I'm sure I'll get a lot more wear out of these "less-skinny but still skinny" jeans now that I've altered them a bit. Easy as it was, even my mom was impressed! Her attention to detail intimidates inspires me sometimes so I was particularly excited to show her this clever little way to alter jeans.
Anyone else try this hack to alter jeans? Have you tried something you like better? Send me your ideas. I'm all about updating my existing wardrobe these days and open to new ideas!
Happy sewing.
j