An Unbiased Comparison of 3 Singer Heavy Duty Sewing Machines: Small but Important Differences
Buying a high-quality Singer heavy duty sewing machine is a great choice if you are looking for a strong frame, a powerful motor, high-speed sewing capabilities, and the most versatility to bring your creative visions to life. Want to make a soft, delicate slip? A heavy-duty machine can do it. Want to sew your own perfect-fit jeans or maybe some custom drapes to beautiful your house? The HD machines got you covered. Canvas totes? Yep, that too. And with ease.
Sewing machines made by this brand ooze quality that seeps into every stitch of your latest masterpiece. They're generally easy to use, and they're pretty powerful too.
There are a lot of sewing machines out there, so making your choice can be somewhat tricky.
Thankfully, we know what we're talking about when it comes to sewing, so here's the lowdown on the key heavy-duty sewing machines on the market by Singer.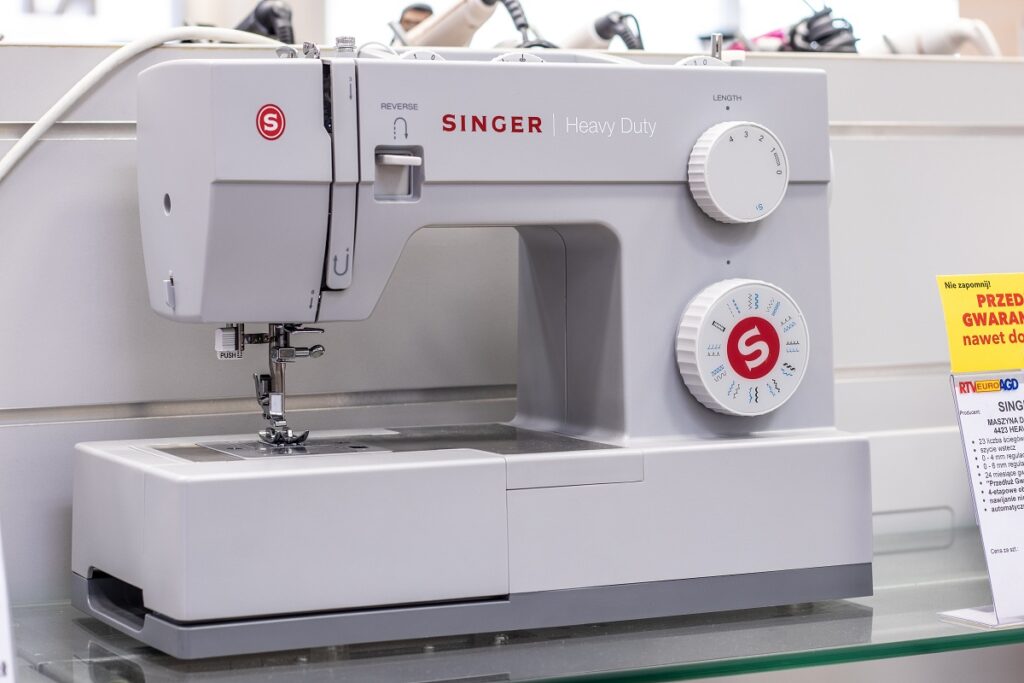 Why Should You Buy A Singer Sewing Machine?
First of all, you may be wondering why exactly you should invest in a Singer sewing machine. Naturally, there are many sewing machines on the market to choose from.
The answer is simple: Singer creates some of the best sewing machines on the market. These sewing machines are rife with fantastic features, and they are very simple to use.
They're also incredibly affordable, which is always a bonus when it comes to buying a sewing machine! These sorts of machines can work for people that are just getting started with sewing and for people that have a lot more experience.
A cool bonus for beginners (or those new to Singer machines) the heavy-duty sewing machines have instant support via the Singer Sewing Assistant app. The app is custom developed to provide sewing education and guidance for each of the machines discussed in this article. You can learn how to get started with sewing with a special focus on creating quality goods. You can access sewing tutorials for your specific machine and learn about new sewing skills as you go. Instructions and animations make it super easy and accessible to get solid training for your new craft.
As a company, Singer has been running for well over a century, so you can be sure that the products are ones that you can trust. Some examples of the most popular sewing machines from Singer include the Singer 7258 and the Singer 9960. The brand even makes embroidery machines including the Legacy SE300.
Of course, we aren't here to tell you about these models today. Instead, we're here to let you know about the best heavy duty sewing machines from the company. So without further ado, here are our rankings.
Why Purchase a Heavy Duty Sewing Machine?
The Singer heavy duty sewing machines are designed with heavy duty projects in mind, from denim to drapery. With a heavy-duty metal frame and a powerful motor, you'll enjoy extra-high sewing speed to save you time (and frustration) when working with thicker fabrics.
Singer heavy duty sewing machines make it easy to create original, personalized costumes, sew custom fashions or beautify your home with new decor items from pillows to curtains.
Keep in mind, with a heavy-duty sewing machine, you can do all the things you do with a standard domestic sewing machine. With the stronger machine, you'll have greater versatility, speed, and a low/no-vibration sewing environment.
The Best Singer Heavy Duty Sewing Machines
Here, we have compiled information regarding some of the best Singer Heavy Duty Sewing Machines on the market.
Namely, the Singer 4423, the Singer 4432, and finally, the Singer 4452.
(If you're interested in the 4411, check out our comparison post about the 4411 vs 4423.)
Affordability is the name of the game with the Singer 4423. As such, it's most certainly one of the best options on the market if you're on a budget, or you're a beginner that just wants to try their hand at sewing.
This Singer heavy duty sewing machine comes with a fantastic 23 stitches (which gives you 97 stitch applications). You will get 6 basic stitches, 4 stretch stitches, 12 decorative stitches, and 1 buttonhole stitch.
As we'll mention later in the list though, you will get slightly more stretch and decorative stitches with the Singer 4432, so if you need more, keep on reading!
It doesn't matter what fabrics you wish to use – the Singer 4423 is more than capable of working with them all. It can deal with heavy-duty tasks like a dream – you don't need to worry about the machine suddenly failing you when you're fixing up your favorite pair of jeans.
Some examples of the materials that this machine can work with include denim, synthetic leather and canvas. This is not an exhaustive list, but it gives you an indication of the kind of power that you're working with.
Thankfully, it will also work with much thinner, more fragile fabrics too such as silk satin and stretchy lycra. It's a Jack/Jane of all trades, really, and it truly masters every task that you give it.
The machine comes with an incredibly powerful motor and a durable frame, meaning that you truly are getting your value for money. To give you just an example of how powerful this machine is, it has the ability to sew at the speed of 1100 stitches per minute. Pretty impressive, right?
---
---
There are a lot of things to enjoy with the Singer 4432.
This Singer heavy duty sewing machine comes with 32 built-in stitches (vs 23 with the 4423) which provides 110 stitch applications.
This sewing machine is a treat if you want to have a variety of stitches – 18 of the 32 built-in stitches are decorative.
Again, this machine can work with a speed of 1100 stitches per minute, which is the same as the other two options on this list. It's durable, so you can be sure that it's an option that will stand the test of time.
It's simple to use and comes with everything that you could need in order to get great results.
---
The third option on our list is the Singer 4452. This Singer heavy-duty sewing machine comes with all the features of the 4432 along with a set of bonus accessories that are optimized for heavy-duty sewing work. This includes an even feed/walking foot, a non-stick foot, a clearance plate, and heavy-duty needles (size 16).
Like the others, the Singer 4452 machine is capable of producing 1100 stitches per minute, and it has an exceptionally powerful motor that means you can get your work done much quicker.
The machine is a big hit among domestic sewists and professionals, so if you're looking for something powerful you should certainly consider this sewing machine.
---
What is the Difference between Singer 4423 vs 4432 vs 4452?
The first thing worth noting here is that the three Singer heavy duty sewing machines covered here come from the same series. As such, they are specifically designed to conduct heavy-duty tasks as needed.
They are similar in most fundamental aspects as you can see in the comparison chart below. The main difference in the Singer 4423 vs 4432 is that the 4423 comes with 23 stitches while the 4432 comes with 32. For the 4432 vs 4452, the differentiator is the bonus accessories set that comes with the 4452. Three are the small cosmetic differences between the machines too (but nothing that is a game-changer in our opinion).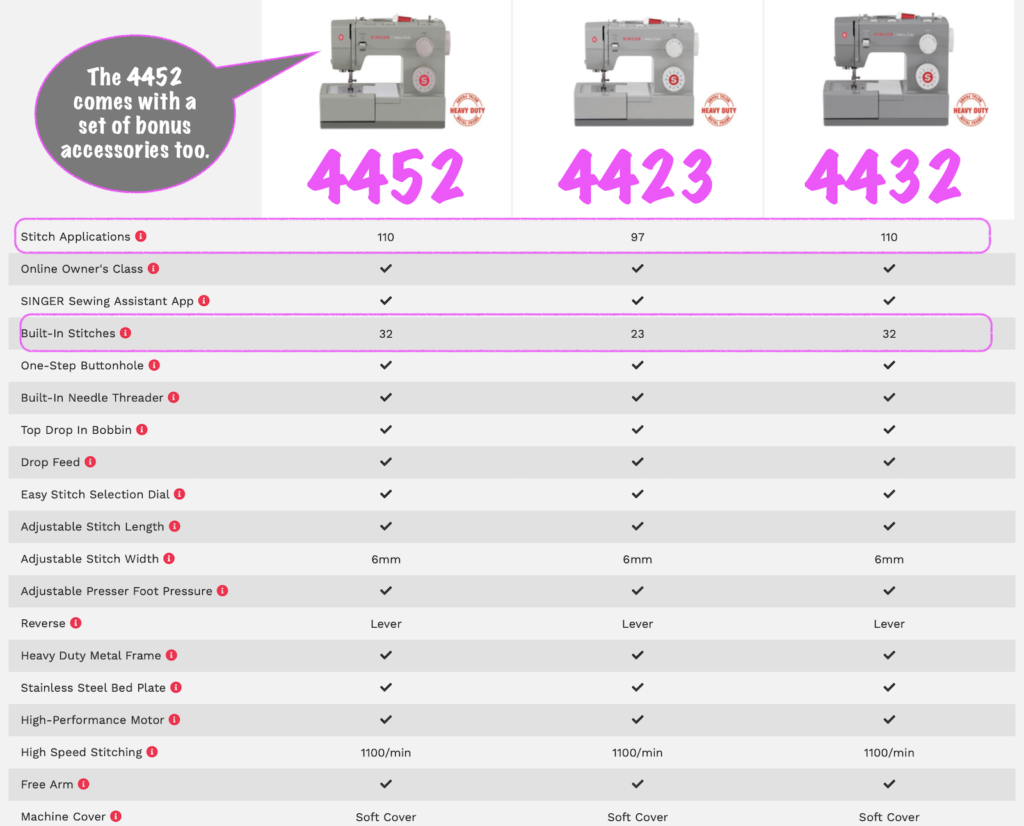 What is the Best Heavy Duty Sewing Machine?
Well, the Singer 4423 is the ultimate option for beginners. With an easy to use the system and an affordable price point, you really can't go wrong with this option.
If you're looking to get an upgrade on the number of built-in stitches, then you should seriously consider getting the Singer 4432. If you are details oriented and love decorative stitching then this may be the best option.
Finally, go for the 4452 if you want the greatest versatility of accessories, built-in stitch options and stitch capabilities. Side bonus, the 4452 often comes pre-threaded.
It's worth noting that a few customers have complained about how some parts feel a bit flimsy considering these are heavy duty sewing machines, namely the foot pedal and thread spindle. It wasn't a deal-breaker but it was enough to notice.
Whatever you choose, any one of these machines is sure to serve you well. They all feature exceptionally powerful motors and a high sewing speed. Every one of these sewing machines is durable enough to last for a long time, so your money will certainly be well spent.
The Finishing Touches
If you're looking for a high-quality sewing machine, you should certainly consider any one of these options. If you've followed our site you'll know that we LOVE these machines for their versatility and power. Even as a beginner, it's helpful to have the versatility of a heavy duty sewing machine to reduce limits on what fabrics you can work with and how many layers your machines can handle.
When I (Jessa) first started sewing, it was all simple items with simple cotton. These days, I find myself mending denim of three kiddos, altering heavy fabrics, and creating throw pillows that need to withstand the high traffic and wear and tear of toddler years (while still looking beautiful). Heavy-duty sewing machines provide the versatility for simple projects as well as "bigger" things like creating giant princess dresses with endless layers of tulle. Um, those are for my daughter most of the time….;)
What are you waiting for? It's time to hop online and hit that buy button already!
Happy heavy-duty sewing.